Help raise funds for the Wishing Well Charity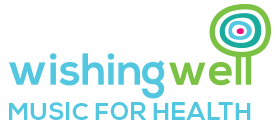 Harpin' By the Sea is proud to support the Wishing Well charity, bringing music therapy to the bedsides of children in critical care.
The proceeds from every T-Shirt and Hoodie sale go straight to Wishing Well, helping them to continue their excellent work.Thank you for your support.
Garment Info
Front: HBTS Target Logo
Back: Plain
T-Shirts £14.99 plus p&p.
Hoodies £24.99 plus p&p.
T-Shirts are 100% cotton and machine washable. Sizes are available in XS, S, M, L, XL, 2XL, 3XL, XL, 5XL. Fabric colour choices are Black, White, Pink, Pale Blue, royal Blue, Dark Green, Irish Green, and Dark Yellow (see below).
How to order 
To order your souvenir HBTS T-Shirt or Hoodie, visit our store page at Battle Plan Harmonica. Available in black only.
P&P will be added to the prices indicated above and delivery is normally within two weeks.
As this is a charity project, we are unable to handle returns.
Order one. Wear it. Make a child smile.
Harpin' By The Sea. We've always been more than blues..