Our charity raffle in support of Wishing Well Music for health is now live! You can buy your tickets from our RallyUp powered raffle page go.rallyup.com/harpinbythesea2023.

Our draw will take place during our live event at the brunswick on Sat 4th Feb 2023 at 14:00 UK time (GMT). The raffle is open to everyone (not just festival attendees and our ur lucky winners will be listed below and will each receive a confirmation email from RallyUp.com.
And the lucky winner is…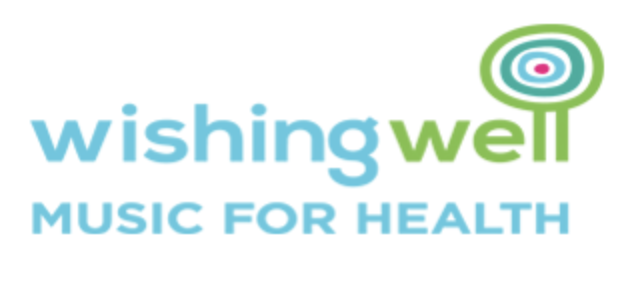 Harpin' By The Sea would like to thank our event sponsors for their incredible generosity in providing the prizes for our online raffle. Money raised will help the Wishing Well Music charity provide bedside music therapy for children in critical care.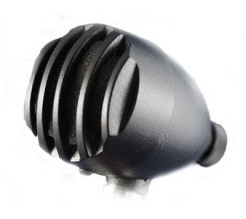 BlowsMeAway Productions: Bulletini-VC
BlowsMeAway productions have generously donated this Bulletini-VC. Blues harp players love bullet-shaped mics, but they can be heavy and hard to cup, which is essential for great tone. Here's a handy bullet mic with huge tone, thanks to The Heumann Element™. Find out more about this fantastic microphone at BlowsMeAway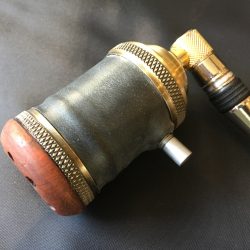 Silverfish Silver Bullet – High-Z dirty/lo-fi mic
Hand made in the UK (Wales). Silverfish Harmonica Harmonica mics make these awesome Steam-Punk, mini bullet mics. They feel and sound great and have a unique aesthetic that you simply won't find with any other type of harp mic. Learn more about Silverfish's amazing range of unique microphones at Silver Fish Harmonicas
Battle Plan Harmonica: 'Ammo Clip' Bullet mic holder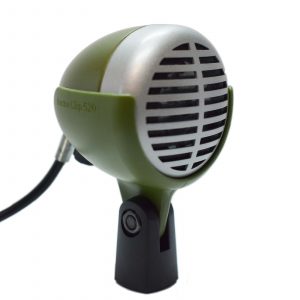 Battle Plan Harmonica have a range of bespoke mic clips for all of the most popular types of bullet mic. They enable you to keep your precious and sometimes delicate harp mic safe, secure and within easy reach on an ordinary mic stand. Perfect if you don't want to have to tuck your mic into your shirt, or balance it precariously on your amp when your not using it during a show. There are 3 of these to give away and the lucky winners can choose from any of the available Ammo Clip models currently on offer. More information is at Battle Plan Harmonica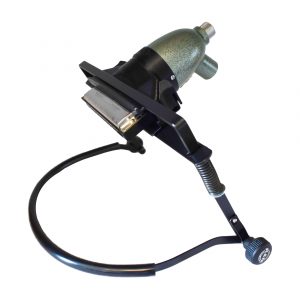 Battle Plan Harmonica: 'Bullet Buddy' Hands-free amplified harmonica assistant
At last! A flexible solution to the problem of how to attach a microphone to your neck rack and get a great cupped and amplified sound, whilst keeping your hands free for playing another instrument. And it doesn't involve Gaffer Tape. The Bullet Buddy supports a variety of different types of harmonica, instrument and vocal mics using a series of interchangeable adapters. This means that you can add your favorite mic to your hands-free amplified harmonica playing. The winner of this prize can choose from any of the available mic adapter options More information is at Battle Plan Harmonica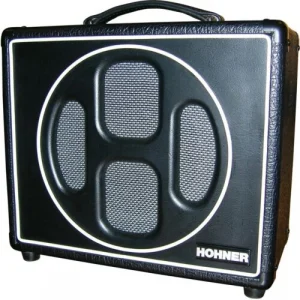 Hohner Hoodo Amplifier
Generously donated by The Harmonica Company
The Hoodoo Box is a 5-watt, Class-A, hand-wired tube amp combo designed especially for harmonica players. Built from the ground up to produce the fat, distorted tones that are the cornerstone of the electric blues harp sound, it is equipped with a single EL84 power tube and a 12 AX7 plus 12 AU7 tube complement in the preamp stage. Its classic spring reverb will add drama and air to your performances while the Celestion Super 8 8″ speaker is especially suited to reproduce the entire range of harp tones. The XLR direct output can be used for recording or as a send to the front of house PA.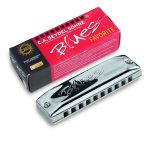 Seydel Favorite Blues Harmonica
This diatonic harmonica with a translucent anodized aluminium comb and high stainless steel covers. has been generously donated by Seydel themselves.
https://www.seydel1847.de/FAVORITE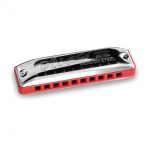 Seydel 1847 Session (Red)
This is a red 2022 Summer Edition Session Steel harmonica, generously donated by Seydel themselves.
https://www.seydel1847.de/sessionsteel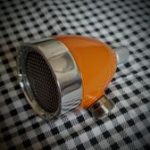 HuskyMics Mini Bullet Edge
Min Bullet Edge – High Impedance Dynamic Harmonica Microphone
Easy to hold and cup harmonica microphone. Very solidly constructed for stage performance. High impedance element with vintage Chicago style characteristics. Beautiful balance in low-mid-high. Crunchy breakup, nasty overdrive and deep bottom. Good feedback and resistance
Die-cast powder-coated shell (this one in a beautiful metal-flecked orange), polished aluminium grille. Vintage Switchfcraft screw-on connector and the new Husky Red Devil high-impedance element.
Husky Microphones are handcrafted by Robert Huiskes, situated in the Netherlands. With great attention to detail and quality and the specific player in mind.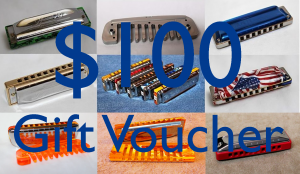 Blue Moon Harmonicas – $100 Gift Vouche
Blue Moon Harmonicas have very generously donated 5 Gift Voucher prizes with a value of $100 each. WOW!
Winners can redeem their vouchers directly with Tom Halchak against any of the really cool custom harmonica products he has available on his website
https://bluemoonharmonicas.com/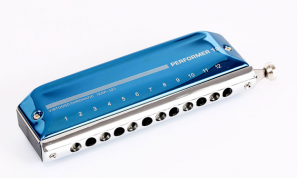 Easttop EAP-12 Chromatic Harmonica
This chromatic harmonica in the key of C from Easttop has a beautiful Stainless steel cover, ABS comb and brass reed plates. Each harmonica is packed in a textured khaki leather bag.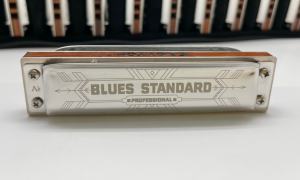 Easttop PRO10 Diatonic Harmonica
Professional Blues Harmonica by Eastop with a wooden comb brass reeds and steel cover plates.
This one is in the Key of C

Suzuki HarpMaster  Diatomic Harmonica
Suzuki has kindly given us 5 of these Harp Master Diatonic harmonicas n the Key of C for you to win!
The Stainless steel covers are durable and ergonomically designed for easy handling. Inside, Phosphor Bronze reeds and an ABS plastic comb give superb sound projection and tonal clarity.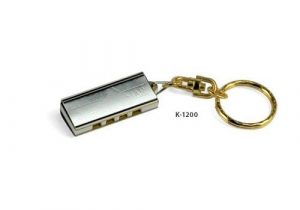 Suzuki K-1200 Key-Chain Harp
Suzuki has given us 6 of these Key Chain Harps for you to win! With this mini 4-hole diatonic harmonica, you will never find that you have forgotten to bring your harmonica with you when you suddenly need it