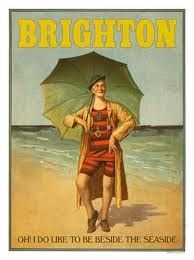 From Soho down to Brighton
There are numerous Hotels, Guesthouses and B&B's available in Brighton & Hove. As HBTS takes place in the middle of Winter, there are also some good low-season bargains to be had.
Make a weekend of it
Why not drive down the night before with your partner and enjoy the local nightlife? A brief Google will produce plenty of entertainment options, including the new British Airways i360 (last flight 21:30h). And while you are busy tooting at HBTS the next day, your partner can explore the countless shopping and food outlets the City has to offer.
Show time
For live music in Hove our favourite venues are The Neptune Inn (featured image) offering blues and Americana all weekend, and the Paris House offering a range of blues, rock'n'roll, jazz and Latin on specific days. In Brighton you should check out The Mesmerist, The Prince Albert, The Komedia, or Concorde II. Other favourites to the west of town are the Duke of Wellington and Piston Broke, in Shoreham.