Brother can you spare a dime?
You're going to need spending money for food, drink and sundry expenses. If you find yourself short of cash for any reason here are a few solutions.
Cash back
The Brunswick can provide cash back if you are able to make an initial purchase by debit or credit card. Order your lunch, or a drink, at the start of the day and ask for cash back at the same time. There is also a Tesco Express at the top of Holland Road, which offers the same facility.
ATM's
The nearest cash machine to The Brunswick is outside Sainsbury's Local. It's a two minute walk to the top of Holland Road and a right turn towards Starbucks. If you are arriving by rail, there are ATM's at Brighton and Hove Stations respectively. Here's a shortlist of other local ATM's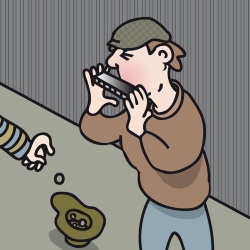 •  Post Office Church Rd, past Second Avenue
•  NatWest, corner of Church Rd and Tisbury Rd, Hove
•  Post Office Western Rd and Brunswick St East
•  Co-Operative Bank, Western Road and Castle Street
•  Metro Bank, Churchill Square