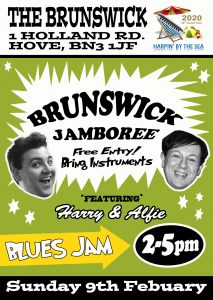 Tell Automatic Slim
This year we are thrilled and delighted to welcome Harry Hornsey, Alfie Bernardi and the fabulous Jam Dang Doodle blues jam to Harpin' By The Sea – Sunday 9th February 2.00pm-5.00pm.
Tell ALL your friends and bring your Nan, it's free!
For the very first time we are extending festivities from Friday night's pre-registration and open-mic, through Saturday's workshops and show, to our Sunday morning junior workshop and afternoon Blues Jam. That's a weekend of non-stop harmonica happiness.
Tell Razor Totin' Jim

In previous years we crossed the border into Brighton to catch these guys; always a risky business. But with criminal convictions lifted, jail-time served, and visas stamped, our favourite blues rascals are coming to us.
You now have every reason to spend a full weekend by the sea, indulging in more musical naughtiness than anyone could possibly imagine!