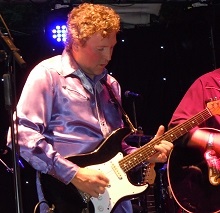 Our early evening Jam Session takes place in the main auditorium 5:30pm and 6:30pm. It is hosted by the highly talented Adrian Marshall on guitar. Everyone is welcome either to take part, or just relax, listen and enjoy!
To take part, please add your name, song and song key to our Jam Roster during the day. Depending on numbers, Adrian will invite entrants to play on a first come, first served basis.
If you don't have a particular song, there will be time for a few rounds of 12 bars, so don't be shy! It's a great way to see what others get up to and no previous experience is necessary.
Adrian Marshall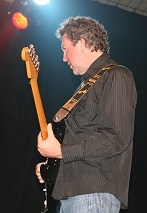 Locally Adrian is an acclaimed performer on Brighton & Hove's live music Scene. He runs a monthly jam session and is a workshop leader for the Brighton bass guitar players' forum.
Adrian was an original member of the Stomp spin-off, The Lost & Found Orchestra. He has also backed many comedians including Harry Hill, Lee Mack, Sean Locke, Simon Munnery, Dara O'Brien, Omid Djalilli, Paul Rocco, Dave Spikey, Boothby Graffoe, Kevin Eldon and Neil Innes. He can be found on bass and backing vocal duties with The Brighton Beach Boys.