It's show time!
Until new year's day, show tickets are available as part of our workshop & show package only. This is to guarantee daytime workshop attendees first option on evening tickets. Show tickets are on general release from 2nd January.
My Lords, Ladies and Gentlemen
Our evening performance takes place in The Brunswick's main auditorium. Doors open at 7.45pm, and the show commences at 8.00pm. There will be short intervals between acts and our programme finishes at 11.00pm.
Seating
Please be aware that seating is limited and cannot be reserved. Please arrive early if you need seats. Standing room and WCs are at the rear of the auditorium.
A little bit of hush
We would ask all guests to refrain from conversation while the show is in progress, as this is  discourteous to our performers and prevents others from enjoying the show. Anyone persisting in voluble conversation during our performance will be asked to leave the auditorium.
Food and drink
Drinks may be brought into the auditorium, however access will only be permitted between songs. Food is nor permitted in the auditorium at any time.
Age restriction
We regret that nobody under the age of 18, accompanied or otherwise, is permitted in our evening performance.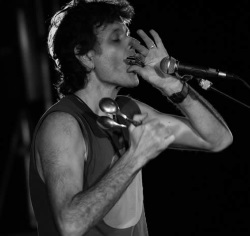 Who's playing?
Our featured artists are experts in their style of harmonica music. With this year's theme of Super-Buskers, we have assembled an international roster of fantastic harp slingers.
Topping the bill from the Scottish borders, we bring you Rory McLeod, intercontinental jongleur and raconteur. Rory's music might be categorised as 'world music', as he draws on influences from South America, Eastern Europe and Spitalfields Market in London's East End.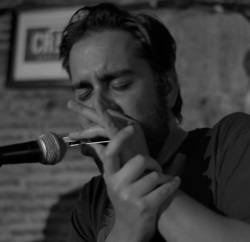 From the badlands of Barcelona, we also bring you Victor Puertas of The Suitcase Brothers, a versatile exponent of blues harmonica. Victor has the gift of reminding us how and why our blues harmonica heroes were so influential on modern music. He also reminds us about all those licks and musical niches we've overlooked; the ones which make the difference between a journeyman and a master harpman.
Last, but by no means least, from Croydon, South London, we have great pleasure in presenting the typhoon of social comment, roots and punk music that is The Brothers Of Mothershovel. You will be challenged. You will be entertained. But we guarantee you will fall in love with the chaotic and humorous subculture that makes this band such a powerhouse of innovation.