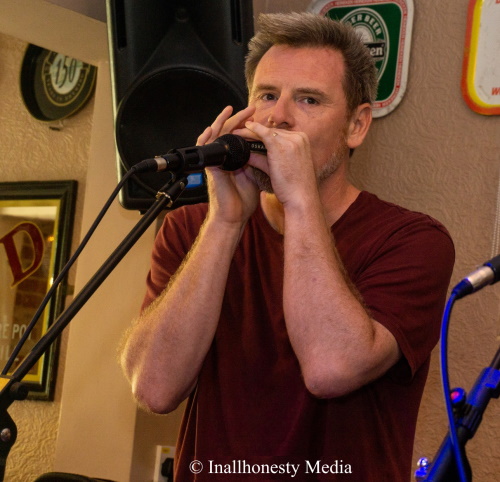 Paul Gillings
Paul will be appearing at HBTS 2023 at our pre-registration party on Friday 3rd Feb, where he will be playing a set with guitarist partner Danny R.
At the age of 11, Paul heard the harmonica for the very first time whilst sitting round a campfire at a Boy Scout cook-out. Paul was an original member of 'Harp Start' a free harmonica school for underprivileged children in the UK.
The kid's harmonica group 'Random Sound' appeared at Glastonbury Festival and appeared on many national and international TV shows including 'Jools Holland's Happening'. Paul and Random Sound were also invited to appear on Disney's 'Mickey Mouse Club' during a US tour in 1990 to accept a 'Golden Mickey' award for outstanding talent, they also appeared on TNN's 'Nashville Now' and CBS' 'Good Morning America' in New York.
In 1993 Paul won the World Harmonica Championships in the Youth Blues/Rock section. That year Paul received an endorsement from Lee Oskar and became a Lee Oskar Preferred Player, Lee also invited Paul to play 'Why Can't We Be Friends' with the band WAR at the Jazz Cafe in Camden. Paul also appeared on the UK Children's programme 'Blue Peter'.
In 2016 Paul appeared on BBC's 'The One Show' playing 'House of the Rising Sun' with 'The Harpoon Blues Band'. Paul also turned back to Songwriting and has been releasing tracks through Soundcloud with more than 90,000 plays to date. Solo tour dates for 2019 included Jurnet's Bar in Norwich, The Fisher Theatre, Upton Blues Festival, Folk East and The Great British Rhythm and Blues Festival. Paul's solo acoustic album 'You Don't Even Know' was released in 2019 and is on general release through all digital outlets. The album received a large amount of radio play and got to number 9 in the International Blues Broadcasters Association (IBBA) chart. Paul also joined the Gypsy Folk outfit Zingaro Blue and was featured on their new album 'A Handful of Songs'. Recent session work includes playing on Kev Walford's album 'Americanarama' and Paul Marfleet's album 'On The Edge' on the song 'Grey Skies'.
2020 brings the birth of another solo album: 'Invisible Prison' an electric Blues album, In May 2020 Paul became an endorser for Seydel, the world's oldest harmonica company. 'Invisible Prison' was the IBBA pick of the Month for August and reached number 4 in their chart that month. The track '3 Heads Are Better Than One' from the album was featured on Cerys Mathews' Blues Hour on BBC Radio 2. Invisible Prison also reached number 4 in the Roots Music Report chart.