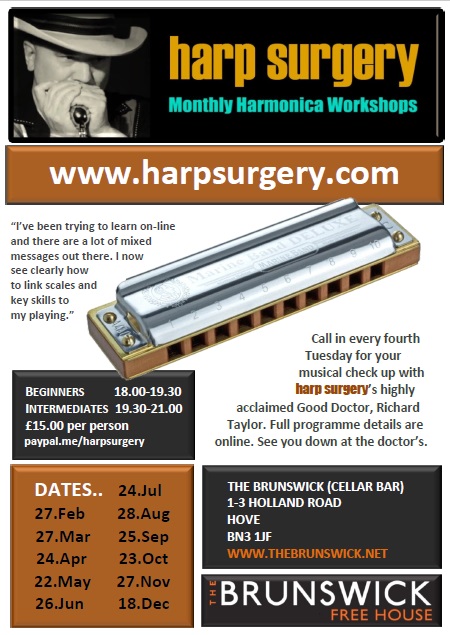 At the Brunswick in Hove actually, near France
Since Harpin' By The Sea was first launched, an oft-heard question as people wend their weary way homeward is, 'That was great! Why don't you do it twice a year, or even monthly?' At which point Rich and Stu make like Forrest Gump and start run-ning! You can have too much of a good thing.
But times have moved on, and we're delighted to announce that you can now enjoy a little shot of Harpin' By The Sea magic once a month. But unlike Forrest Gump's box of chocolates, you'll have a good idea of what to expect. Dates and further information are on our flyer just below and at www.harpsurgery.com
Make it your Tuesday night guilty pleasure. Bring the office. Bring a friend. For the musically uninhibited, there's even a Jazz Jam afterwards where you can strut your augmented or diminished prowess. We look forward to seeing you for more free-reeding frolics.