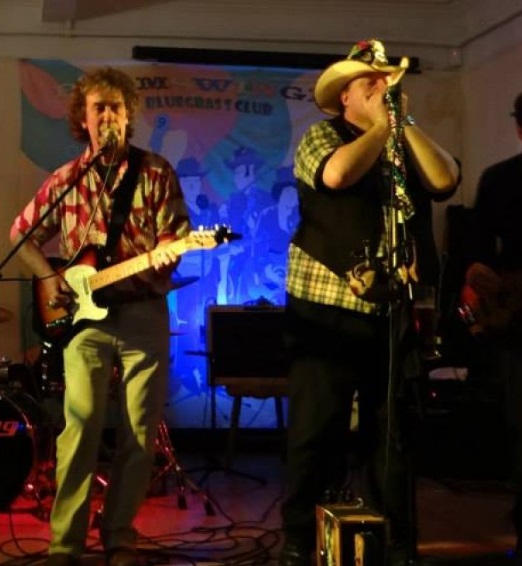 Based in South Wales, and appearing exclusively for HBTS7, Aidan Sheehan is one of the UK's leading exponents of the Louisiana musical style. Together with Martin Blake on guitar and backing vocals, we bring you the Whiskey River boys; a dance crazy, blues rocking, Louisiana combo, from… the Welsh Borders (UK).
Whiskey River deliver retro rock 'n' roll, southern-style swamp Zydeco blues and rocking Cajun country with whiskey-tinged smoky vocals. And when they strike up, we defy anyone to sit still. Aidan sings and pumps his Cajun accordion and Seydel Blues harmonicas, while Martin fires up his white Gretsch and Swamptone Telecaster B-bender guitars. Bring your dancing shoes for our very special presentation of southern-fried music.We're taking you to the Bayou for a Gumbo with Cajun sauce so hot, it'll blow your socks off.
Whiskey River's personnel have played in many notable roots, rock and punk outfits, including The Revillos, X-Ray Spex, Bon Ton Roulez, Dan Cassidy's American Express, The Pork Dukes, Joe Le Taxi, The Grass Snakes, Pontchartrain, The Bourbon Boys, The Box Band, Baton Rouge, Ricky Cool & The In Crowd, Midland Aces, The Hoola Boola Boys, The Root Doctors, Blake's Three, The Swamp Devils, Cold River Lady, Jelly Roll Jones, BPs, Juice & Half Cut Grass.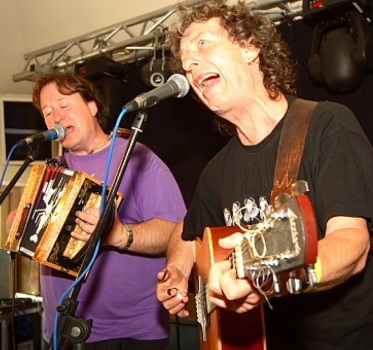 Aidan Sheehan is also a highly accomplished music teacher. He provides a peripatetic music service across South Wales and the Welsh Marches and has tutored harmonica in the UK, Ireland and the Continent. PGCE in hand, since the 1990's Aidan has been running harmonica lessons in a variety of Welsh Schools and Colleges. He has also provides harmonica tuition for community projects, training organisations, businesses and Clubs, including the Round Table and Women's Institute.
"Great CD – Louisiana approves" – Peta Waddington, KBON Radio, Louisiana, USA
"You are just what our festival needed" – Saulieu Cajun & Zydeco Festival, France
"Over this weekend you were the best band by far" – Zydeco stage, Thames Festival, UK
"Best entertainers we have had" – Forest Folk Club, UK
"What a performance" – Raamsdonksveer Zydeco Festival, NL
"Great show" – Tenby Blues Festival, UK
"The audience loved you" – Opwijk Louisiana Night Festival, Belgium