Flying in from Toronto exclusively for HBTS7, Jerome is a major player on the Canadian harmonica scene. An accomplished and exceptional bluesman, his bending harp skills have been sought by everyone from Ronnie Hawkins to the late Jeff Healey, and he continues to mesmerise all who witness him onstage. This includes the judges at the 2014 International Blues Challenge in Memphis where Jerome took home the Lee Oskar best harmonica player award.
Jerome has been a full-time musician since 1986, when he won an Ottawa Bluesfest contest that helped launched his career and triggered his move to Toronto. That was the start of The Phantoms and an inspiring period that carried the explosive rock band to sell-out status in the City's top clubs. And when The Phantoms reluctantly called it quits, Jerome just kept on going.
He's headlined the Montreal Jazz Festival, played Toronto's Air Canada Centre with Ronnie Hawkins, opened for the Yardbirds and performed on stages across Canada and the US, France, Finland, Portugal, Ukraine, Israel and beyond. He's played, recorded or toured with Prince, Pinetop Perkins, James Cotton, Billy Ray Cyrus, Alannah Myles, Jeff Healey and Suzie McNeil.
Sanctuary City
Jerome has released 14 albums in his 25-plus year career, 11 of which are solo, including his last album Sanctuary City, produced with drummer Gary Craig and Spin Doctors guitarist Eric Schenkman. Produced by Dave Misener, the new album includes 12 contemporary blues originals from the welcoming title track to the chunky groove of Hidden Things, and
 the soulful plea of Lord Show Me How, to a reworking of the Phantoms' Mon Amie.
"I empty myself a lot," Jerome says of songwriting. "Every day I meditate and I just look past all the immediate thoughts and better ones keep landing in. I look around and something will inspire me."
Jerome, now a father of two, was provoked into writing Sanctuary City when Eric asked if he'd been writing anything new. "I went into a bit of a drama and said, No, I'm not writing anything; all I do is change diapers!" Eric responded, "Maybe you should write anyway." The process took a year, but that's what Jerome did.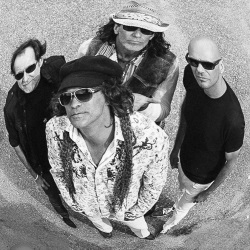 In between commitments with the Spin Doctors, Eric would pop over to Jerome's house and get to work. Hidden Things, New Years Eve and Pollyanna Reed were all co-written with Eric. Gary joined them on the writing of Sanctuary City and Eric gets sole credit on Fortune Teller. They recorded the album at Donlands, Toronto – the same building the Phantoms recorded in.
Jerome, who wears his trademark tool belt with a harmonica in every key, has stepped up his game on the instrument. He purchased a 30-reed harmonica, invented by Brendan Power. "It's a new tool for making a harp sound more unique. You'll go, Wow, I've never heard a harmonica do that!" says Jerome. "He gave me the tools to explore."
Godboogie
Lots new is happening too. Godboogie is currently being mixed and is set for release in October 2016. Jerome has also packaged together four of his earlier CDs as All 4 One.