Support our own artist too!
We've had many enquiries about the rocking blues harmonica instrumental behind our promotional videos. Well it was written as a jingle specifically for HBTS by none other than our Executive Director, Paul Gillings.
If you'd like to download a copy of Promo by Paul Gillings, visit his Bandcamp page, or click the logo on this page.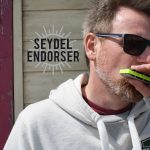 Paul is a recording artist in his own right and kicks off Saturday's programme with Danny R on guitar. You can check out his credentials on our Artist Page and on his own homepage. Danny R also features on guitar on the Promo track, while Paul covers harmonica, rhythm guitar, bass and drums.
For harmonica buffs, the track is in E and starts in second position on a standard A diatonic. It then modulates through third, fourth and fifth position. Happy woodshedding!