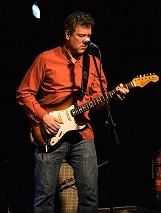 If our Masterclass is not for you for, you are warmly invited to join Adrian Marshall upstairs at 4.00pm for our Break Out Session. Adrian and his guitar will be ready to help you explore ways to develop your harmonica skills. He is highly experienced in encouraging players to discover new ideas and techniques, and will be ready to field your questions.
Adrian will also invite participants play numbers, which they would like him to accompany. You are also welcome to watch and listen, picking up ideas about playing as a harmonica and guitar duo. This could be a chance for you to try out a song with Adrian, which he could invite you up to play in our Jam Session, which he is also be hosting.
In the 1980's, having met his com padres at University, Adrian was a founder member of Lenna and the Snakemen, a non-nonsense R&B band that toured Europe and backed Lucky Evans and Pierre La Rou. He has worked with Dr. Feelgood, The Ruts, PJ Proby and the magician Paul Zenon. The theatre has also featured in his work, where he has played on shows such as Bill Bryson's The Lost Continent and The Blues Brother with Steve Steen.
Adrian was an original member of the Stomp spin-off, The Lost & Found Orchestra. He has also backed many comedians including Harry Hill, Lee Mack, Sean Locke, Simon Munnery, Dara O'Brien, Omid Djalilli, Paul Rocco, Dave Spikey, Boothby Graffoe, Kevin Eldon and Neil Innes. He can also be found on bass and backing vocal duties with The Brighton Beach Boys. Locally Adrian is a ubiquitous performer in Brighton & Hove's live music venues. He also runs a local monthly jam session and is a workshop leader for the local bass guitar players' forum.